Najib Rahman Sabory
AFLP Community Leader at Kabul University
Associate Professor and Head of the Energy Department, Engineering School at Kabul University
Najib Rahman Sabory is also Chairman of Afghanistan Renewable Energy Union (AREU) as well as the Rotating Chairman of Afghanistan Awareness and Analysis (A3), a Kabul-based think tank. He founded The Kabul Talks, a professional dialogue platform, and TechDoor, an engineering and science networking group. He participated in the UNITAR Afghanistan Fellowship in 2007 and served as Coach and then Resource Person in 2008 and 2009.
---
Part I. On the UNITAR Hiroshima Afghanistan Fellowship (AF)
When and how did you get involved in AF? What was your background?
I got the UNITAR Fellowship in 2007. I was briefed by a university colleague who had already completed the Fellowship, and he highly encouraged me to apply. I was teaching at Kabul University, Engineering School, Electrical and Electronics department at the time.
Given AF goal of developing leaders for transformational change, how have you been able to apply the lessons from AF in your projects after the programme?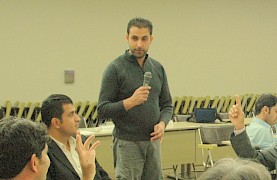 The concept of transformational change helped us move wisely towards bringing positive change in my organization. After learning the transformations change topics, I learned to move slowly, but smartly. It also helped me identify potential risks and mitigation strategies during the change process.
Part II. On the Botanical Gardens Network (BGNet)
What motivated you to get involved in the AFLP BGNet initiative over and above your current job and commitments?
I believe that by being in touch with AFLP friends, I will learn more. I accepted in the first call to volunteer in this initiative. I am super-busy with my job and other activities, but I do enjoy working with AFLP colleagues.
What are some possible challenges you might face along the construction of the botanical gardens, i.e. logistics, security, politics, etc.? What is your vision for your city's botanical garden for future generations?
There are very few people in the technical level who understand all the other aspects of the BG, such as the economic and social benefits. They look at it only as a teaching supplement at the university level, while I think it should be discussed at a higher level. I think the BG garden will support the other aspects of the higher education such as research and site exposure visits for the general public.