Zakir Hussain Hassanzada
AFLP Community Leader for BG-Net at Bamyan University
Country Manager, M&E (Action-Aid Afghanistan)

Zakir Hussain Hassanzada is a multi-skilled educator, a Monitoring, Evaluation, Research and Learning professional with over ten years of experience with different international organizations. He was a fellow in the UNITAR Hiroshima Afghanistan Fellowship Programme in 2018 Cycle.
---
One Beautiful Journey
Back in late 2018, a simple conversation with my friend led me to UNITAR Fellowship Program for Afghanistan. And I am glad it did.
My friend told me that if I participated in the UNITAR Hiroshima Fellowship Program, I would forget other capacity building programs for young leaders of Afghanistan. If I wanted to learn about post-conflict reconstruction for the best and brightest Afghan public officials and civil society leaders, then UNITAR was the place.
During that time, I was working as regional senior MERL Officer (Monitoring, Evaluation, Research and Learning) with the Bamyan Office of Aga Khan Foundation. I did not know much about UNITAR, environment etc. I was feeling doubtful, but little did I know that those doubts would only stick around for a few days.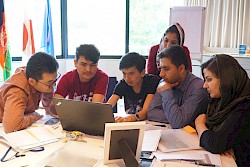 The following week, when I had my first workshop in Kabul, I was no longer in doubt. One by one, more participants from different government agencies and other International NGOs came and almost all the seats were taken. Finally, Mr. Sabahuddin Sokout, coordinator at UNITAR came and launched the training officially. I remember the first words I heard from him were, "Hello and good morning all the fellows" But it was not the words that made the impression. It was the way he said those words. He said those words with such joy that the training hall filled up with positive energy. It was quite obvious that he was happy to work as coordinator of UNITAR for Afghanistan and providing capacity building support to all the participants. My first impression of the UNITAR Fellowship community was – clever with high-profile participants and trainers who taught with joy and high motivation.
UNITAR Fellowship Program became an inspiration for me to become a changemaker who could bring a small but effective change in Afghanistan. I was an experienced monitoring, evaluation, research and learning professional with over ten years of experience with Aga Khan Foundation and planned to meet my career objectives – to hold a decision-making, top-level management role in government agencies, donor agencies or international organizations. The Fellowship Program helped me a lot to fulfill the objectives. Now, I am working as Country Manager for Action–Aid Afghanistan, involved in top-level management decision making, and will be able to bring changes in development projects and programs for a better tomorrow in Afghanistan.
I have already mentioned above that the UNITAR Fellowship Program became an inspiration for me to become a changemaker, AFLP BG-Net is the place where we can share our ideas with high professional, dedicated, and motivated international friends to initiate a botanical garden. I would like to thank Sokout and the entire AFLP team members for their trust in me and inviting me to be a member of such great team.
For me and for Bamyan University Team, a botanical garden is not only a project to implement and leave after two or three years, but the botanical garden will be the seed of hope for further development across Afghanistan. The only challenge we may face along the construction of the botanical garden is the instable political situation of Afghanistan. We hope that Afghan peace talks will end successfully and all the challenges towards Afghanistan's development will be eliminated.
The overall vision for botanical garden at Bamyan University is:
Having a standard botanical garden in the country and at the regional level for improving scientific and research experiences
Botanical garden will play a vital role as a bridge between the provinces and other countries in terms of experience sharing, exporting the capacities, new ideas, potentials, scientific and research achievements of the universities in the long term.
In my opinion, for the growth and enrichment of the botanical garden team, it is necessary to have more alumni on board so that we will be able to mobilize more resources, partnerships with government and other countries universities. Furthermore, Assistance, augmentation, and the use of collective capacities are effective in accelerating the establishment and development of a botanical garden.