Najeeb Ahmadzai
AFLP Community Leader at Paltia University
Co-founder, the BAWAR Social Society in Paktia Province
Najeeb Ahmadzai co-founded the BAWAR Social Society in Paktia Province with goals to improve education and strengthen environment and social mobilization in 2015. The organization arranges free courses for students who are applying for universities. In one year, BAWAR trained 1090 students, and more than 600 of them were admitted to their top choice faculties and universities across the country. He was a fellow in the UNITAR Hiroshima Afghanistan Fellowship Programme in the 2010 Cycle and a Coach in 2011.
---
Part I. On the UNITAR Hiroshima Afghanistan Fellowship (AF)
What was your role in AF? How did your role change over time? What about your performance, interests and motivation?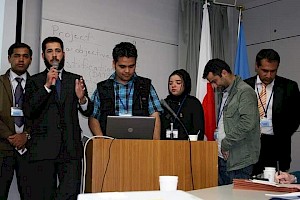 I am result-oriented and having results is always a blessing irrespective of whether they are favorable or not. It's the result that gives you the chance to think further. I was enrolled as Fellow in Cycle 2010 and then selected to be Coach in year 2011. It was my privilege and first experience to lead a very dynamic team. The format of AF was such that each team member had to do a needs assessment, and then out of those individual assignments one of them was to be selected as the group project. I was fortunate that my project was selected as the group project which gave me maximum motivation and energy. The project was on building taxpayer awareness and education.
Given AF goal of developing leaders for transformational change, how have you been able to apply the lessons from AF in your projects after the program?
The Afghanistan Fellowship shaped my entire career. It gave me the capacity to think out of the box. The international exposure we have now was not there before the AF program.
It had a huge impact for me. For example, I had studied the elevator pitch during my university courses but had not practiced it, until Prof Micheal Fors made us practically learn it. I did not have the capacity to work in a group, it was the able mentorship of Ms. Meridith and Mr. Steven Polunsky and Mr. Nasir Ebrahimkhail and Mr. Akbar Hamidi which helped me succeed in doing it. AF made me learn how to lead a team and I can say that I was fortunate enough to successfully lead ARD when I was Director General of Afghanistan Revenue Department.
Recently I ran for the position of Member of Parliament from Paktia Province. It was the greatest experience of my life and the various lessons and concepts that we learned at AF helped me a lot during the process. Although I was not successful in my bid, the social exposure was tremendous.
Part II. On the Botanical Gardens Network (BGNet)
What motivated you to get involved in the AFLP BGNet initiative over and above your current job and commitments?
Gardening has been my hobby for the last many years. I love to gift flowers and plants to others and I get more energy when plants grow over time. Moreover, as a social activist I am involved with Paktia University for the last many years and have raised funds for various small projects and greenery of PU. Since AFLP BG-Net has both aspects, i.e. involvement with universities as well as with greenery, it motivated me to get involved.
What are some possible challenges you might face along the construction of the botanical gardens, i.e. logistics, security, politics, etc.?
Every change is resisted in one way or other and with varying degrees. With respect to Nakamura Botanical Garden at Paktia University I think PU leadership change and maintaining the current momentum could be core challenges that Nakamura Botanical Garden Paktia University could face in the future.
What is your vision for your city's botanical garden for future generations? What kind of activities and partnerships can you cultivate surrounding the botanical garden? Do you foresee reaching out to other members in the Alumni community to mobilize support or resources?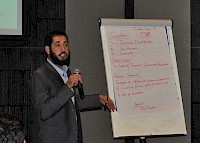 Frankly speaking at the start, I considered botanical gardens as a place with a collection of plant species but with the passage of time I have come to realize that it's not just collections of plant species but rather an opportunity to save our present and to develop our future. I consider the project as source of preserving our values that's why we have named the garden as Nakamura Botanical Garden because Dr. Nakamura is considered as a symbol of dedication and hard work in Afghanistan. He was someone who devoted himself for Afghanistan and who brought Japan into the hearts and minds of Afghans. My vision for Nakamura Botanical Garden is to have a site we can preserve our plant species together with our values, where everyone can make a contribution in whatever form possible, material or moral. I am of the firm opinion that not only our AF alumni community members but every member of civil society in Paktia will be motivated to contribute towards the flourishing of the Nakamura Botanical Garden Paktia University in the future.