The Webinar, cohosted by GLH, AFLP, The EDEN seminars, and BGCI, was held on 21st September 2021. We wish to thank all who attended the interview with Dr. Paul Smith and Prof. Monte Cassim — thanks to them and the wonderful speakers, it was an inspiring and informative hour. We are grateful to BGCI colleagues, for their flexibility and intellectual generosity in preparation of the session.
Watch the recording of the webinar below.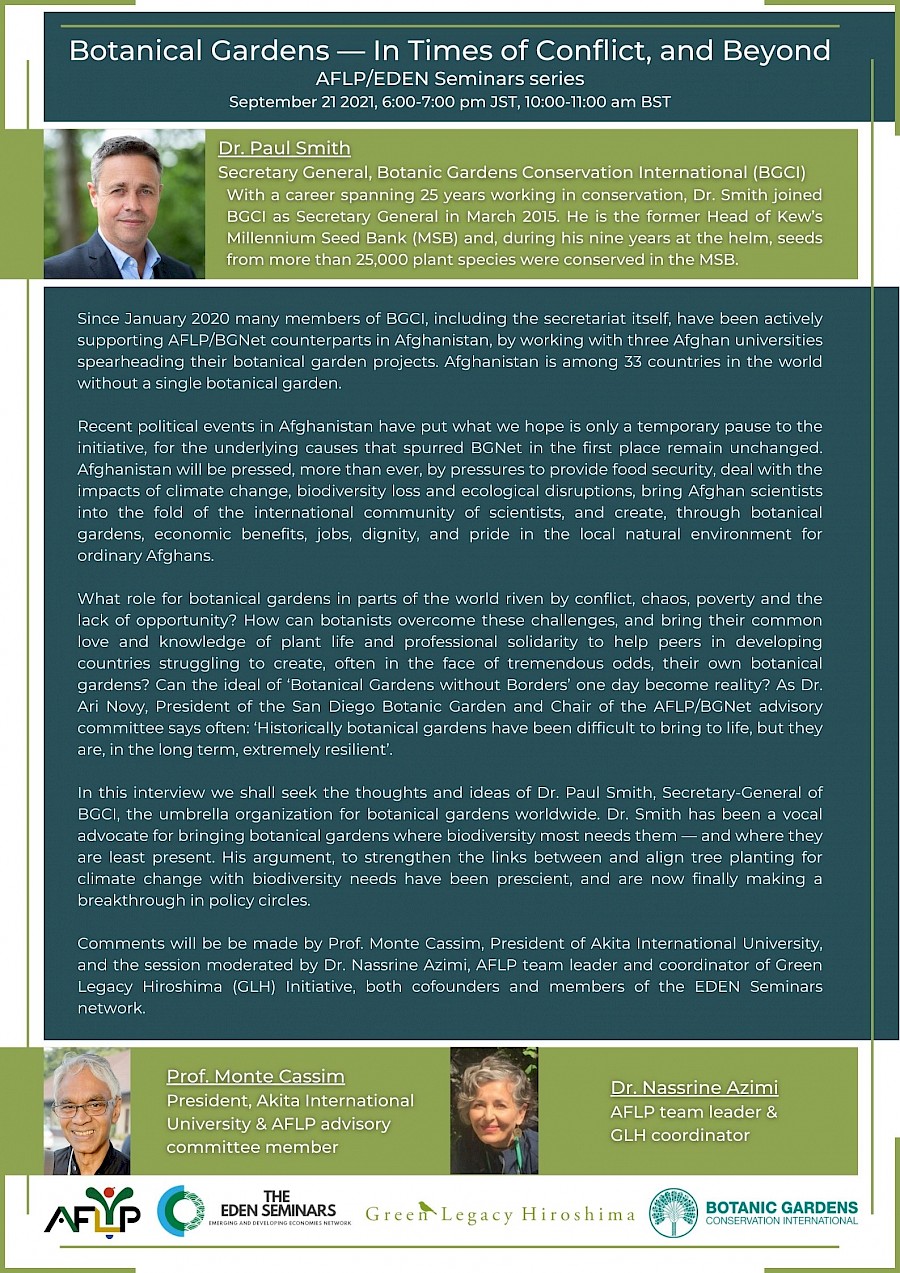 Speakers:
Paul Smith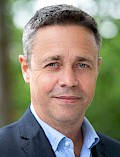 Secretary General, Botanic Gardens Conservation International (BGCI)
With a career spanning 25 years working in conservation, Dr. Smith joined BGCI as Secretary General in March 2015. He is the former Head of Kew's Millennium Seed Bank (MSB) and, during his nine years at the helm, seeds from more than 25,000 plant species were conserved in the MSB.
Trained at Kew's Millennium Seed Bank, Dr. Smith has 20 years of experience in seed conservation, including seed collecting, processing and research. he has helped to establish seed banks all over the world, and his skills include seed bank design and commissioning of equipment. He also has >30 years of experience of plant conservation, particularly survey and inventory, vegetation mapping, tree conservation, species recovery and ecological restoration – primarily in Africa.
Monte Cassim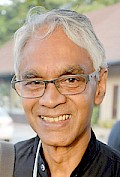 President, Akita International University & AFLP international advisory committee member
Monte Cassim, President of Akita International University and co-founder, EDEN (Emerging and Developing Economies Network) Seminars, started as a researcher at the Japan Center for Area Development (JCADR) in 1974. He joined Mitsui Construction Corporation's Design Division in 1980 and from 1985 worked for the United Nations Center for Regional Development (UNCRD), as Coordinator of the Industrial Development Unit and the Urban Development and Housing Unit, as well as the Strategic Assistance Program for Latin America and Indonesia. He was seconded from UNCRD to the Social Infrastructure Division of the Asian Development Bank from 1986-1987, to work on a joint program on urban development for impoverished communities.
Nassrine Azimi

AFLP team leader & Green Legacy Hiroshima (GLH) coordinator
Nassrine Azimi is co-founder and coordinator of the Green Legacy Hiroshima Initiative, a global campaign to disseminate and plant worldwide seeds and saplings of trees that survived the 1945 atomic bombing of Hiroshima. She is also co- founder and chair of the EDEN (Emerging and Developing Economies Network) Seminars.
At the United Nations Institute for Training and Research (UNITAR) where she is currently a senior advisor, Dr. Azimi established the Institute's Hiroshima Office for Asia and the Pacific in 2003. Prior to that she was UNITAR's coordinator of environmental training programs, deputy to the executive director, chief of the Institute's New York Office, and for 12 years head of UNITAR's Board of Trustees' secretariat in Geneva, throughout the Institute's restructuring and revival.