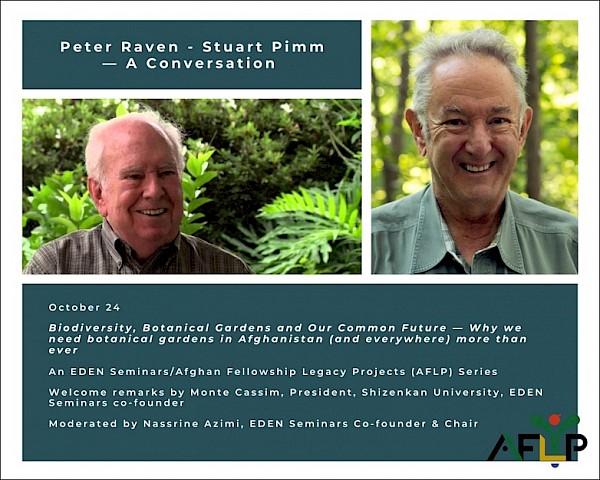 Speakers
Peter H. RAVEN

Emeritus President, Missouri Botanical Garden
Peter H. Raven, a leading botanist and advocate of conservation and biodiversity, is president emeritus of the Missouri Botanical Garden and George Engelmann Professor of Botany Emeritus at Washington University in St. Louis. For more than 39 years, Dr. Raven headed the Missouri Botanical Garden, an institution he nurtured to become a world-class center for botanical research, education, and horticultural display. During this period, the Garden became a leader in botanical research and conservation in Latin America, Africa, Asia, and North America.
Dr. Raven first realized in the mid 1960s that the rapid growth of the human population, consumption, and the spread of polluting technologies were threatening biological diversity to a degree that had not been realized earlier. He soon became an outspoken advocate of the need for conservation throughout the world based on efforts to attain sustainability and social justice everywhere, and has received numerous prizes and awards in recognition of these activities.
In 2001, Dr. Raven received the National Medal of Science, the highest award for scientific accomplishment in the United States. He has been president of the American Association for the Advancement of Science, Sigma Xi, the American Institute of Biological Sciences, and a number of other organizations. He served for 12 years as Home Secretary of the National Academy of Sciences, to which he was elected in 1977. He is also a member of the American Academy of Arts and Sciences and of the American Philosophical Society, of the academies of science in a number of other countries, including China, Russia, the U.K., Brazil, and Australia.
For 25 years, Dr. Raven served as co-editor of the Flora of China, a joint Chinese-American international project that resulted in the production of a contemporary, 49-volume account on all the plants of China, 31,500 species, completed in 2014. He has authored or coauthored numerous books and publications, both popular and scientific, including Biology of Plants, the internationally best-selling textbook in botany and Environment, a leading textbook on the environment. Dr. Raven received his Ph.D. from the University of California, Los Angeles, in 1960 after completing his undergraduate studies at the University of California, Berkeley. He has held both Guggenheim and MacArthur Fellowships.
Stuart PIMM

Doris Duke Chair of Conservation Ecology, the Nicholas School of the Environment, Duke University
Stuart Pimm is a conservation ecologist of world renown. Though a scholar with a prolific publications record in some of the most prestigious scientific journals, he is also a powerful communicator, able to reach out to both the broader public as well as to legislators and policy makers. His early work on computational ecology led to a deep understanding of Food Webs across and within trophic levels and their inter relationships with environmental factors. His extensive body of work is based on scientific rigor, and his theoretical calculations and hard empirical observation provide the scientific foundations for his advocacy. Dr. Pimm's award-winning NGO, Saving Nature, which works in Latin America, Africa and Asia, has just extended its mandate to advocate for biodiversity conservation to cover all of nature. This NGO's activities will delve deeper into understanding the richness of life on earth and reach out across 3 of 9 continents and generations, to impress upon all the importance of conserving ecological habitats in all corners of the world.
Dr. Pimm is the recipient of numerous international awards. Notably, he is the recent recipient of the 2019 International Cosmos Prize, a prestigious annual award presented by the Expo'90 Foundation "to honor those who have, through their work, applied and realized the ideals which the Expo '90 Foundation strives to preserve", namely, the "harmonious coexistence between Nature and Humankind".
Professor Pimm received his BSc degree from Oxford University in 1971 and his Ph.D from New Mexico State University in 1974. He is the author of over 270 scientific papers and four books. The Institute of Scientific Information has ranked him as one of the most highly cited environmental scientists for over a decade.
Moderator
Nassrine AZIMI
EDEN Co-founder & Chair/AFLP Team Leader